How to reduce legal involvement in routine work with contract automation
In this episode, Dani Manfreda, Deputy Head of Legal & Compliance at Adverity, discusses how his team structured their contract management and why 52% of customer & partner contracts at Adverity need no legal input.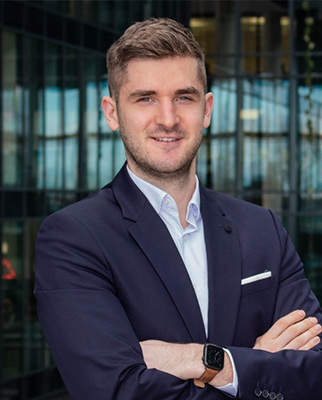 Here's what you'll learn
Tired of spending too much time on routine contracts? See how the fast-growth Adverity reduced legal involvement in mundane contracting work while improving their collaboration with other departments.
Watch the recording to learn:
A typical contract automation workflow of a fast-growing SaaS

The biggest benefits the legal department at Adverity gets from automation

The difference in how legal collaborates with other teams after introducing contract automation 
Happy watching!
Transcript
Jenny Hall:
Hello everyone and welcome to the Precisely podcast. Here we talk about contract management and legal operations with the guests that do it best. 
Today we have the pleasure to welcome Dani Manfreda, legal operations manager from Adverity. And for those of you who don't know Adverity, they are a marketing and analytics SaaS provider. 
What Daniel will do here with us today is that he will tell us about his team and how they structure their contract management, but also how and why 52% of customer and partner contracts at Adverity today need no legal input. So that's great work that has been done there, for sure. 
I sure hope that you will enjoy this episode. And of course, good afternoon, Dani, and welcome to the show. Before we start with my questions, please just go ahead and introduce yourself.
Dani Manfreda:
Hi! First of all, thanks for having me here. My name is Dani. I work at Adverity as legal operations manager, leading the legal ops team there. I joined Adverity a little bit more than a year ago. It's been an exciting journey and it's been exciting to see how much progress we have made in the sense of contract automation. Happy to talk about it in this podcast.
Jenny Hall:
That's amazing. We for sure have a common interest in contract automation and all things related to that. To make sure that we kind of start off on the right end, how would you define contract automation as a term? What is it for you?
Dani Manfreda:
Well, contract automation in its most basic sense would be a process of creating a contract, managing a contract, and storing a contract. But what's important to say here is that when we talk about this concept, it's not just about automating the contract itself. This whole concept is a bit wider. And so when we talk about contract automation, it's actually about simplifying and expediting the whole contract lifecycle.
And as you know, the contract lifecycle consists of different stages. It starts with creating a contract template that is sort of standardised. Then we have, for example, that a contract needs to be generated by somebody, who can be a legal person or maybe not a legal person. Then this contract needs to be, let's say, reviewed internally. Maybe we need to trigger an internal approval.
These approvals need to be collected. We, of course, need to also share the contract with the counterparty who may have some comments. So we need to take into consideration, also, negotiations around that. 
And then finally, when everybody is happy with the contract, it needs to go out for signature. And it also needs to be stored. So you can see these are all different stages that we have, and they're all crucial if we want to achieve efficiency and long-term maintenance. 
And Precisely helps us, with digitally streamlining those steps, so that basically we can put the contract on the autopilot mode. We put it in the hands of the contract originator, who takes it from step one to the final step when it's signed, and legal is actually not even involved in the best-case scenario. 
Because, you know, those steps are automated and simplified in a way that the contract originator can play with the contract and include in the contract whatever they want. This, in a safe and controlled environment. And legal only gets involved if there is something extra or out of the ordinary.
And finally, this then results in faster contract execution. It builds better relationships with the internal stakeholders. And I think it's also important to say that the time that other departments would spend on contract creation, they can actually spend with the counterparty, or with prospect partners, supply whoever it is, and actually talk about their project and future collaboration.
So yeah, this is what I would see as contract automation.
Jenny Hall:
And I think you're really pointing out some key parts of it. And I think what's important, and at least for me, is what you're saying that it's not a tool only for legal. Legal will of course be involved, but it's also a tool for legal to kind of move the work away from them and allow other persons in the organisation to actually use it based on this very clearly defined workflow. And we're where a system can actually help you in doing that, which of course helps everyone in the end.
Dani Manfreda:
Exactly.
Jenny Hall:
So speaking about contract workflows and those things, would you be able to describe a typical contract workflow from Adverity and how you use it?
Dani Manfreda:
Yeah, so it's a very good point that you brought up. So at Adverity, we have a lot of departments who have access to our contract management tool, Precisely. And I think we have today more than 170 users that have some touch points with Precisely. So they are not, of course, all working on a daily basis in Precisely, but they do work in Precisely.
So you can imagine we also then have different workflows. They are not always the same. But if I can, let's say, describe a typical one, it would look something like this: 
A contract originator, who in most cases is actually not a legal person, it can be sales, business development, or account management. They come to Precisely and they have available quite a few contract templates that are standardised and pre-approved by legal.
So they just need to select the contract that they want to have, that they want to use, and then they are already in the drafting mode. 
So basically in Precisely, generating the contract is very simple. It basically leads the contract originator through different sets of questions. And by answering those questions, the content is pulled into the final contract.
So those are actually the variables. So you can see that basically this is how we can somehow control or create a safe environment for a non-legal person to be able to draft a contract successfully. 
And once the contract is generated, normally it needs to be reviewed by the line manager of the contract originator. We need to collect, or for some have trigger approvals, which are in Precisely triggered automatically. We collect approvals. Then the contract needs to go to the counterparty for their review, and this party may also have some comments on it. Maybe we have some contract negotiations there. 
And then finally, when everybody is happy, the contract gets sent out. And because we use the integration with our e-signature provider, we are using the tool that we are already familiar with. And it goes automatically to the counterparty for signature. As soon as it is signed, then it gets automatically stored in Precisely.
So this is like a typical example. And you can see I did not mention involvement of legal anywhere because everything was basically standardised, and the content of the contract is basically whatever the contractor originator wanted to have there. And yeah, legal is actually not involved unless we have something out of the ordinary, something that we need for them to do. Step in and, I don't know, draft a clause or remove something.
But even that, we were able to automate to a pretty good extent with Precisely because we do offer, within the questionnaire in the process of drafting a contract, like a closed library where the contract originator can basically select which pre-approved legal clauses they want to include into the contract. And maybe if they want to take something out, we also took that into account.
So this would be sort of like a typical contract workflow at Adverity.
Jenny Hall:
And I think you're really pointing at the ideal workflow as well. And I mean by having, as you say, all the templates pre-approved by legal, I assume that also anyone in the company, let's say sales comes in and drafts, they can be very comfortable that they know that they're not acting outside of the framework of contracting in Adverity. At the same time as legal can rest on their end and know that nobody goes beyond what they're authorised to do. Because if they do that, they will automatically know, which of course is a great benefit. 
Is there any specific type of contracts or contract workflow that you've been able to automate fully today? And is there maybe some specific reason for why you started at this end or with this type of contract?
Dani Manfreda:
So, any contract that is prepared, or let's say standardised, by the legal team and put into Precisely is actually, or can be, fully automated. So it can be taken from point one to the signature point by the contract originator. Legal does not have to be involved. And we have various different types of contracts that we have standardised.
So we have commercial agreements, partner agreements, and employment agreements. This is all standardised and basically this can be, or is, fully automated at Adverity, as long as, you know, there is nothing special about it. Maybe I can say that we focused especially on the commercial contract simply because, yeah, before we introduced Precisely this was like the biggest chunk of the contracts.
And, you know, Adverity is growing very fast and we are getting more and more of these. So that's why our focus was there. And we tried to automate every stage of the contract lifecycle as much as possible so that basically legal can, and also other teams, can focus on other stuff and not worry about this manual work like we had in the past and worrying about which contract template to use because everything is sort of like standardised and automated.
Jenny Hall:
And I'm thinking that there are kind of two approaches to take here when you decide that you are going to start automating contracts. 
On the one hand, maybe you want to start with your most simple ones to just get those out and rolling and have the users get familiar with the workflow. 
Or, you start with the ones that you see that you are using the most, or negotiating the most, or getting the most questions from. Which maybe is a little bit more complicated with a commercial contract. That's perhaps more complicated than a standard NDA, or an employment contract.
But you see a lot of value in getting that process automated and not having to jump in so often as the legal person. So it's kind of two ways of approaching where to start.
Dani Manfreda:
Exactly. That's correct. And then in our case, I would say it's a bit of both. But of course, we wanted to focus on the biggest chunk of the contracts. And yeah, that's why commercial agreements are… why we are constantly improving them and trying to think out of the box, maybe adding new clauses to the clause library, and to basically bring it to an even higher level of fully automated contracts or higher percentage.
Jenny Hall:
Yeah. And have you seen or been able to collect data? Maybe noticing that in this specific commercial contract we see that the three available clauses that we have put in the template now need to be revised, or we need to add an additional clause. Have you been able to utilise the system in that way as well?
Dani Manfreda:
Yeah. Thanks to Precisely and the metadata that we are using, we can track the most important content of the contract, or the metadata that is interesting to us. We can see that, and we can see which templates are, let's say, requiring more often legal involvement. And then we immediately start thinking, OK, why is that the case? Maybe the template is not as good as we thought. And maybe we need to work more on it and try to make it even more, let's say, user-friendly, so that legal does not have to be involved. 
Of course, for some use cases we want to be involved. But, you know, trying to think about those examples where we can automate and we can put, let's say, paper and scissors in the hands of the contract originator who, like I said, in most cases, is not a legal person at our company.
Jenny Hall:
Yeah. Which is of course a great benefit as well. Having the person that's closest to the counterparty actually being able to tailor the contract. Rather than legal who gets involved first in the contracting process, and you don't really know what's been discussed before. You have to collect that information. But here it's really the contact person, who is always going to be the same, and is able to do some adjustments.
Dani Manfreda:
Exactly.
Jenny Hall:
And I don't know if Adverity already had Precisely when you started, but what were the biggest hurdles or pain points that you foresaw, or that Adverity foresaw, if you had not prioritised automation?
Dani Manfreda:
Just before I joined, Precisely and Adverity started working together. But I can still remember the improvements. And the hurdles, let's say we would not have Precisely, would be first of all, we would be losing a lot of time. At our company, in the last quarter, we had more than 50% of the commercial contracts fully automated, which means that legal was not involved.
So you can imagine if we put those 50% on those legal counsel desks, and they needed to be involved in each of those contracts. It's a lot of time. So this was for sure something that we took into account and we said, OK, we need a contract management tool like Precisely to basically save time and to be able to focus on the substantial work and, you know, provide legal advice. 
But also, not having things automated and standardised, in a way, exposes you to human error. It's as simple as that.
So Precisely offers us, if we talk about commercial agreements, very advanced formulas that we can use to calculate the fees. And there are other aspects of it in the contract templates that we're using, where basically we can reduce or basically eliminate human error. So that was for sure another reason why we wanted to have a contract management tool.
And also the contract management tool also enables the company to win business, to close business, fast because we are not losing time on the admin stuff and manual work in relation to the contract workflow. So we can have this automated. 
And also as we are scaling and we have a lot of new people joining. It's also much easier to onboard somebody if you have already in place the contract management tool. And you don't have to explain all the manual steps that would need to be taken if you didn't have it. So these are maybe some, some of the things, that would probably be bigger blockers if we didn't have Precisely.
Jenny Hall:
Yeah. And I remember that, for myself, when I started at Precisely, we used Precisely for our own contracts. And I mean, as long as I could log into Precisely and start drafting contracts, I didn't have to figure out who needs to approve this contract, who is the signee of this contract, and all those parts. It's just when I'm let in, it's going to be automatic and I can feel more comfortable that I'm not going beyond what I'm authorised to do, which of course is important when you're scaling up.
But then also, I'm sure you've heard that legal is the bottleneck in all processes. And when you're scaling fast and have a lot of things going on, or other commercial partnerships, you don't want to be in that kind of bottleneck, slowing things down every time. You want people to come to you for the fun stuff and the for because they're frustrated.
Dani Manfreda:
Exactly. And, you know, imagine dealing with, every day or ten times, with the same manual step that you need to. You get frustrated, and others get frustrated. So in the end, it's just not fun to work anymore. So yeah, that's why this is also a very important aspect of having things automated in legal.
Jenny Hall:
Yeah. And making it more fun even, not having to do those manual things. You know, identifying 'where in the contract did I put excess, because I need to insert information there'. Or changing those small name bits and pieces. You're bound to miss something at some point.
Dani Manfreda:
Yeah.
Jenny Hall:
So looking more at quantitative measurements and data points, what results have you been able to see in terms of quantitative data points or saved time?
Dani Manfreda:
So for sure, we are saving a lot of time with Precisely. Not just the time of the legal team, but also the time in other departments, which is of course super valuable. In the last quarter, 52% of all customer and partner contracts were basically completely automated in a way that legal was not involved at all.
But also looking back. So before we started using Precisely, we had another contract management tool. And at that point, even though we had a contract management tool, only around 40% of the contracts were actually processed via that tool. And this is increasing with Precisely gradually each year. So we had in 2021 already 55% of contracts processed only through Precisely.
And this year, we are already at 76%. The trend is going up and we want to bring it as high as possible. Of course there will also be some exceptions, but we are really putting everything in there to have everything processed through our contract management tool. And yeah, once again we can, we can track all this.
So the possibilities that Precisely gives us, so we can track those contracts and also in detail we can go into contracts. We can see which clauses were used, and how often. And all this helps us with reporting, which is, as you know, also very important so that we can show  'these are the figures'. And we can also then make informed decisions about what the next steps will be. So yeah, this would be, in a nutshell, some numbers.
Jenny Hall:
Yeah. And 76%. That's really, really an amazing number. I mean, everybody, of course, wants to be at 100%, and maybe that will come down the line. But 76%, this is truly impressive. It's great what's been done.
Dani Manfreda:
Exactly. And especially looking at where we started. So like I said, 40% basically two years ago, a year and a half ago. I'm sure we can get to a hundred very soon.
Jenny Hall:
Me too. We have kind of touched upon it in the other questions, but if you were to pick, what are the biggest benefits, in your opinion, that the legal department gets from automation?
Dani Manfreda:
So I would really put it on, number one would be time saved. And really enabling the legal team, the legal counsels, to actually focus on the legal problems and really provide legal advice, and really bring value in that sense to the company. And not lose time on some manual repetitive tasks that basically they shouldn't be working on. So this would be for sure, number one.
But also I think, in general, it brings us closer to other teams because simply like you said, it can be fun. So basically, we are not discussing with other teams like the bottlenecks, but we are just working together to get the contract over the line, to get it signed. And you know this for sure helps with the atmosphere.
And then one of the biggest benefits is also, like I said, with the reporting. Precisely helps us see which contract templates can be improved and where we have room for improvement. And, you know, we constantly want to improve, and this is something that we really value. And this is how we basically can bring big value to the other teams as well. Because we make their lives easier and of course, we also make our lives easier, because we don't have to spend time on the tasks where we are not needed.
Jenny Hall:
Yeah. And I guess that another interesting point is that legal can prove with data that they are making data-driven decisions, or actually strategic decisions. Not purely based on a gut feeling or whatever you like the most. That you can actually see that we're using this tool and now we see that 'this clause is used by nobody or this clause is used by everybody, or you're asking me once again and once again'. You can really show that we're not only the traditional people thinking what we read in law school, but we're actually using data as well, to be proactive.
Dani Manfreda:
Yeah, exactly. At Adverity we say smart with data. And this goes for all departments. So legal included. And having such a tool, of course, it's a big benefit and it helps us a lot.
Jenny Hall:
Yeah. And looking at the other departments of the company, can you see benefits there as well?
Dani Manfreda:
Yeah, for sure. I mean, I can see that, of course, they're also happy. Because they already know that if there is nothing out of the ordinary to our contract template, they can bring it over the line very fast because fewer teams are involved. Basically, the contract is in their hands and it can be signed very fast. So of course it's something that everybody appreciates. 
And yeah, it's always better to do it this way than already knowing that it will take time because we don't have a process in place or we have no automation. So you can see that basically it does bring value. So, it does not only go for the legal team, that we can focus on our legal stuff, but also for other teams that they can focus on, I don't know, on partnerships, or selling, or whatever it is, and not spend time manually managing the contract. So that would be the most important thing. 
And they are saving time and time is super important to everybody. And if we can invest time in something else, something more important, then I think everybody's up for it.
Jenny Hall:
Yeah. Would you say that there is a difference in how you collaborate with your colleagues in other teams today rather than before? You mentioned the 40% of contracts being used in a contract admission tool before. Is there one single point where like, OK, this is how our collaboration really shifted to being more fun?
Dani Manfreda:
Yeah, especially our contract template library grew over time. And this of course brings the percentage up of the fully automated contracts. And yeah, you can see that in the past we were much more involved with other teams in contracts, but not because our involvement was needed, but simply because we did not have the process automated.
And when we introduced a template for that, or we introduced the process within Precisely that is fully automated, the collaboration was different. So in the past, we were always sort of like, 'Hey, can you, I don't know, step in and do that?' like always, you know, with what we had to do. But it's really just about, you know, we get involved when we have something special about a contract, some interesting clause that needs to be discussed.
So yeah, basically I would say it really did improve relationships with the internal stakeholders in that sense so that we are really working more on the fun stuff, at least from the legal point of view.
Jenny Hall:
And the fun stuff is also always from the legal point of view, right? All fun things lie with legal.
Dani Manfreda:
Yeah. Yeah, exactly.
Jenny Hall:
And you mentioned that you have an e-signature tool connected to the system, which of course is very important. But do you use contract automation functionalities also with other systems or any integrations that have been beneficial for you?
Dani Manfreda:
Yeah. So we are using the integration with our e-signature provider, which is really great because this way we always have the same look and feel. So even if we have to make an exception and process the contract, for whatever reason, outside our contract management tool we can still use the same e-signature provider. 
But yeah, Precisely also recently introduced the integration with HubSpot and this is something that we are currently working on and playing with, testing it. Already, we are thinking about the potential rollout in the near future. And yeah, we really appreciate Precisely's work on that and enabling those integrations. Because this does not bring value only to us as the legal team, but also to the other departments who are maybe working with other tools that legal is actually not involved with. And Precisely is supporting that.
Jenny Hall:
Yeah, and I think that's kind of the next level of contract automation; connecting it to other systems. Where a system like Precisely is sort of the hub for the legal stuff, but it's still speaking to all of the others. So you don't have to take information manually from one system to another. But it's all a community of speaking systems.
Dani Manfreda:
Yeah.
Jenny Hall:
Great. We are running out of time. And I'm so sad because I feel like we could talk forever. But thank you so much, Dani, for this insightful chat. I do have a final question, which is, what is the one book that you would recommend any legal professional to read? Or an article or anything on that topic?
Dani Manfreda:
Oof! So yeah, as you know, in legal we do a lot of reading in our work time. And that's why, basically, I prefer to read in my free time actually books that are not really legal-related, at least not directly. 
So I would maybe recommend a book which I read recently. It's about sleeping by the author, he's a doctor, Matthew Walke. The book is called, If I'm not mistaken, Why Do We Sleep or Why We Sleep? Maybe you know it? OK, then I recommend it to you. It's a very insightful book. It talks about sleeping and the importance of it. Not just for our health, but also like the way we perform at work as well.
If you want to work well, you also need to sleep well. You are invited to read it. If you don't have a book for the vacation.
Jenny Hall:
Yes, I will. I'll put it on my list actually. It sounds super interesting.
Dani Manfreda:
Yeah, it is.
Jenny Hall:
Great. Then again, thank you so much and speak again soon.
Dani Manfreda:
Thank you.