How CEOs turn contracts into business intelligence
Our end-to-end CLM platform helps your team create contracts with increased speed and control, setting the organisation up for success. Turn contracting into a business asset and enabler.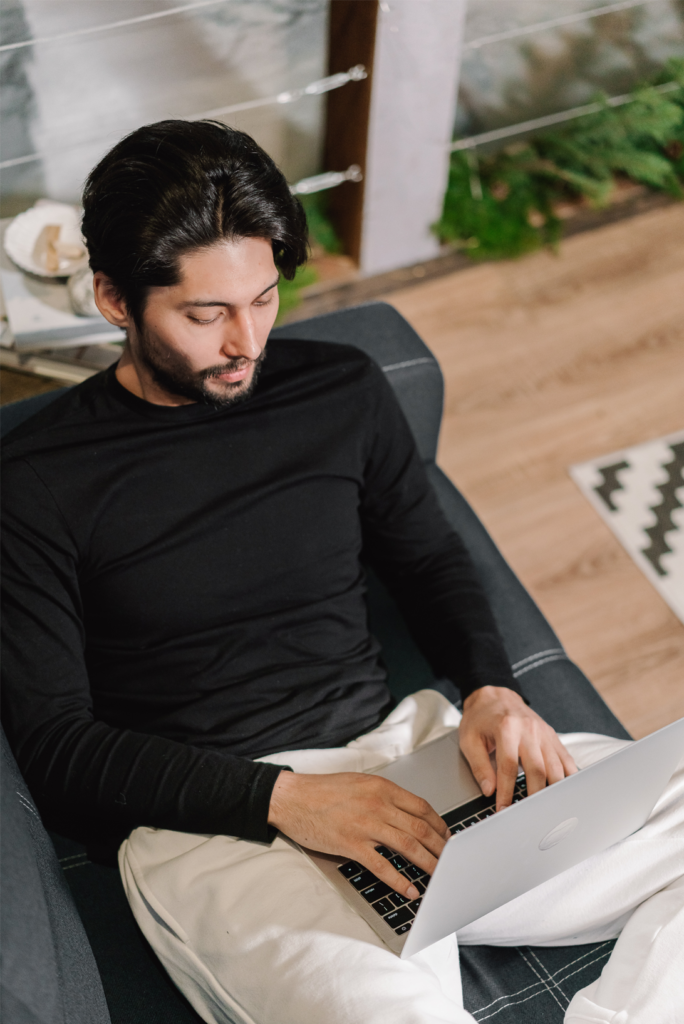 Increase productivity
Get a clear overview of your contracts
An overall CEO contract management solution needs to provide a clear overview of—and insight into—all of your business' contracts. At the same time, it should enable all departments to execute contracts faster, with increased control. A digital contracting solution is the first step towards reducing costs and maximising the value of your contracts while ensuring the correct handling of data. Precisely's range of scalable features makes contract management efficient and enables collaboration across departments.
As a result, your whole business will save time and reduce costs. Get started and treat contracts as an asset!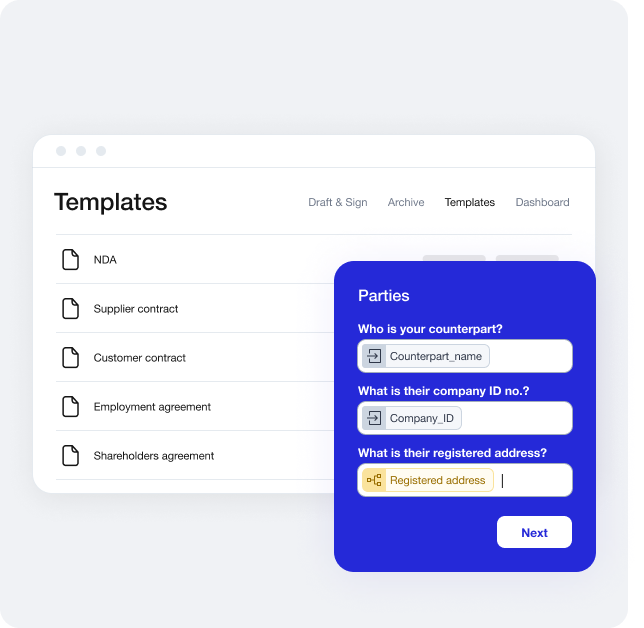 Automate repetitive tasks
Streamline your contracting processes
With Precisely, your teams gain access to a wide range of contract automation features, actively reducing the time spent on repetitive and administrative tasks. Precisely lets your legal team transform your templates into automated workflows. From there, anyone can create compliant contracts efficiently, with or without a legal background.
Close deals faster with contract management
After the contracts are created and negotiated, Precisely also lets you send them for legally binding e-signing. Not only cutting paper and mail costs, but also reducing the time to signature. Therefore letting you close deals faster. Set up your contract structures and user permission levels for increased security. All while automating your workflows and approval processes.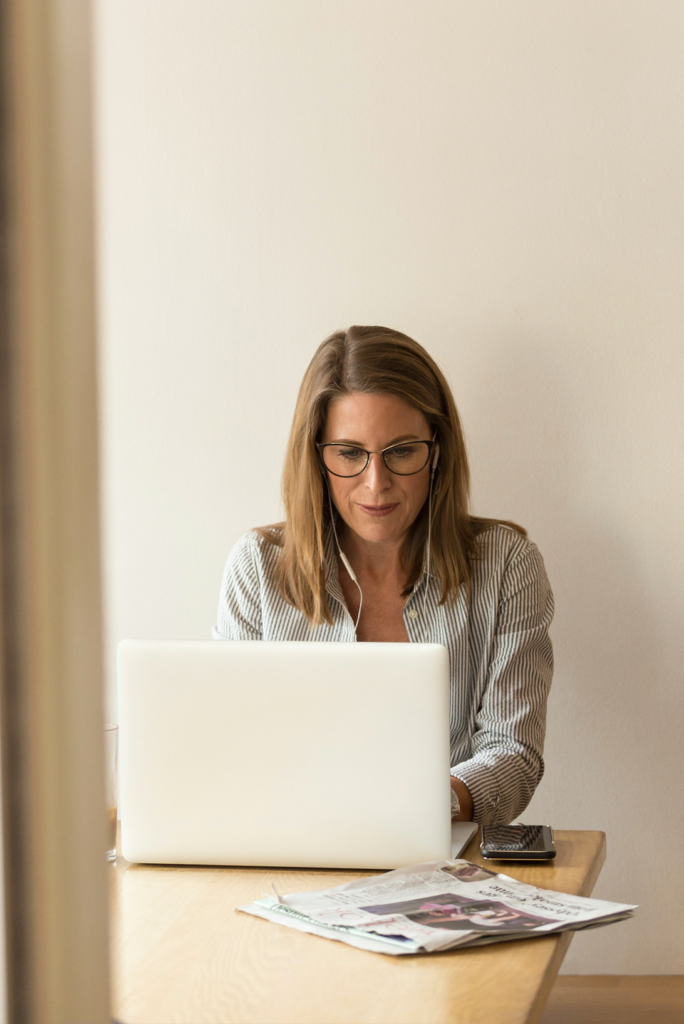 Access all your contracts easily
Keep your contracts central, visible and accessible
Almost 10% of all signed contracts are lost. This is largely due to the fact that many contracts are scattered across departments. In binders, online folders and countless other storage locations. Precisely offers an AI-assisted archive for all your contracts. Thus making the contract management of your business and your role as CEO a lot easier.
Set folder-level permissions and let smart search and filtering systems ensure the right users are always be able to find what they're looking for in a matter of seconds. With Precisely, you can always access your contracts, from anywhere.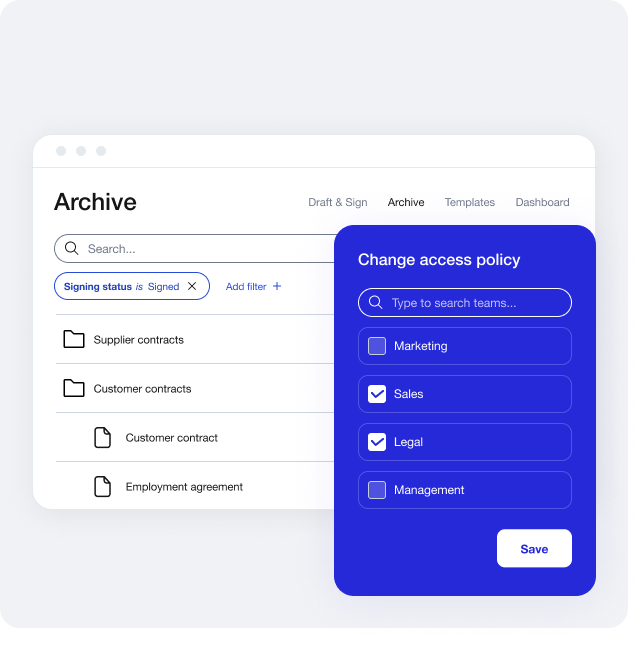 Compliance in the long term
Never miss an important deadline or contract milestone
There are many events relating to contracts that you can't afford to miss. Whether a contract pertains to executive management, sales, procurement or legal compliance, monitoring your contractual deadlines will reduce risks as well as costs.
Because of this, Precisely offers smart reminders for any event in a contract's lifecycle. Just set a reminder and Precisely will send you an alert when it's getting close. Never miss a renegotiation, renewal or similarly important deadline again.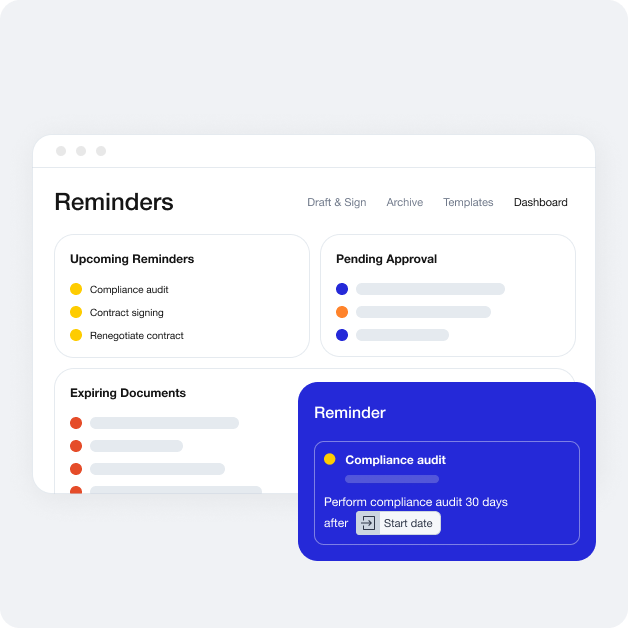 We already use Precisely