The benefits of a CLM system – cheat sheet
Investing in a solid process for your contracting work will pay back. We compiled the central benefits of a CLM system into one, handy cheat sheet that is easy to bookmark or share with colleagues.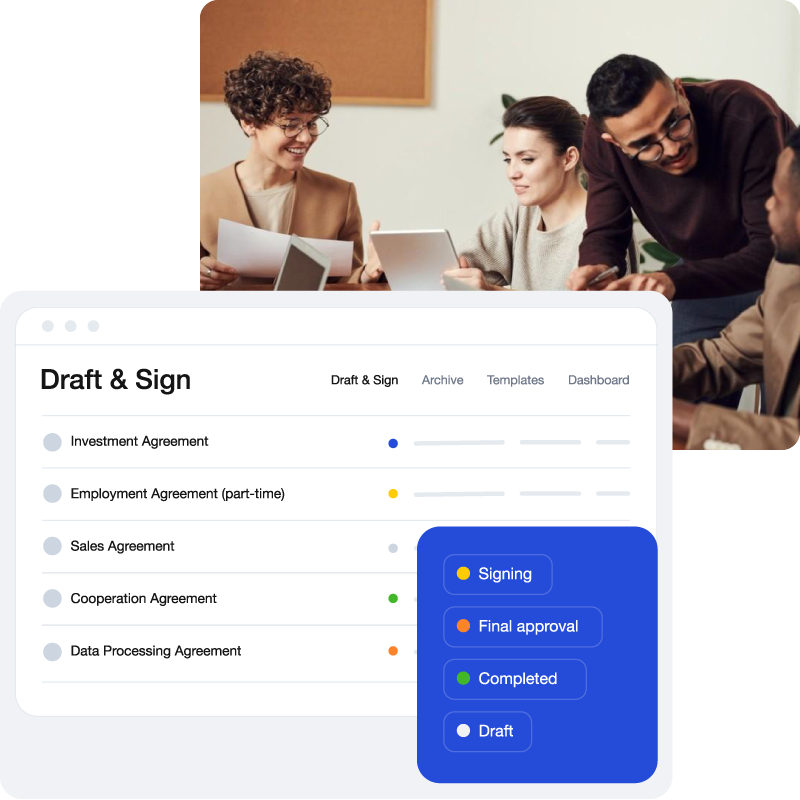 Increase your efficiency with smooth workflows and processes
Reduce contract time
A typical contract takes about 40 hours to make and costs $6,900, according to the World Commerce and Contracting Association (WCC). With a CLM platform, you reduce the number of hours and lower the costs for contracting considerably.
Accelerate time to revenue
Closing deals faster with a streamlined contracting process means quicker revenue. As an example, the international e-commerce company NA-KD reduced the time to signature request by up to 80% after automating their contract processes with Precisely.
Increase workforce productivity
Most legal teams say contracting workload is too high. A CLM platform automates many of the repetitive and administrative tasks that take up too much of the legal team's time. This lets your legal team focus on more productive tasks.
Break down silos
No one wins on working in silos. Still, it is very common for organisations to collaborate too little. With a CLM platform, you open up the possibility to share the contracting work among several departments and teams. A user-friendly CLM platform lets legal predefine and automate workflows and permissions – this makes anyone feel confident handling contracts, even persons without a background in law.
Enable remote work
A cloud-based CLM platform gives authorised persons access to contracts – anytime, anywhere. A perfect feature for a flexible and agile organisation.
Become an easy business partner
A CLM provides you with increased ease of doing business. You and your customers will notice. Become a brand that people love for its ease and smoothness. 
Increase employee satisfaction and retention
User-friendly and modern tools will assist your staff where they need it the most. Ease their workload and reduce the time spent on administrative tasks to improve employee satisfaction and retention.
Make your business scalable
By implementing a good process you have done the groundwork. With a CLM in place, you have all the conditions for continued growth and prosperity without reinventing the wheel.
Keep everything related to contracting in one place
A CLM platform helps you keep all your contract processes and data centralised within a single system. Everybody knows where to store and look for information. The archive should be searchable so you can easily find what you are looking for with the help of metadata.
Integrate contracting into your workflow
Many CLM platforms have integrations that make it possible to connect them to other software such as Salesforce, Google Workspace, HubSpot, or Bamboo. By doing this you add the possibilities of contracting into an already existing workflow.
Increase quality through better control, consistency gains, and compliance
Get on top of your contracting
With a CLM platform, you always have a general view (if you want) of the status of each contract. This way, you always know what's going on, what needs to be renewed, and who you are waiting for to sign. A comprehensive overview of your contract processes makes them easier to track and faster to scale, both up and down, according to the changing needs of your business.
Control what each individual can do
A CLM platform offers user roles adapted to the responsibilities and permission that each user should have. While some users are only allowed to make questionnaire-based drafting, others can administer the entire contract lifecycle and set user permissions.
Appropriate legal involvement
Ease legal's contract burden by involving them only when needed. Many of your contracts could be created risk-free by other departments thanks to the rule-based workflow and pre-approved templates from legal.
Create contracts without a background in law
Thanks to questionnaire-based drafting, anyone with access can draft a contract just by answering a few questions. Depending on the answers, the CLM platform creates a draft with the corresponding content and clauses.
Transparency into workload
A CLM platform can help you identify the contract pressure every department or team has, as well as where bottlenecks occur. It provides you with data and insights on how to make your processes more efficient.
Transparency into contract changes
A CLM platform should offer document versioning with a detailed audit trail and activity log so you can keep track of who does what.
Ensure compliant contracts
Without a proper contract software in place, it can be hard to be compliant with GDPR or SchremsII, for example. A modern CLM platform should comply with all GDPR requirements and prevent organisations from having personal data dispersed across multiple locations and platforms.
Helps you remember important events
A CLM platform reminds you of all the important dates and events, just in time. You don't have to worry about staying on top of important events like renewal or expiration dates. The platform does it for you.
Money talk: cost savings or added revenues
Spend less working hours on contracting
Time is money! A CLM platform helps you spend less time on contacting. Think about how many hours are spent on contracting every quarter or year in your company – it's definitely not necessary to spend that many hours on something that can partly be done automatically.
Avoid contract value leakage
A contract can end up being worth less than anticipated without a proper contracting process in place. This can be the consequence of a wrongly structured contract, vaguely formulated language, or forgotten clauses or terms. With a CLM platform, this could be easily avoided.
Reducing the risks of penalty
Say goodbye to ever being late again. With a CLM platform that helps you create compliant contracts and that reminds you of important events, you save penalty costs.
Retain customers
Don't risk losing customers because of slow processes. Smooth and efficient processes will make your customers stay and do business with you.
Don't miss out on revenue opportunities
Don't miss out on potential revenue because of missed opportunities. By exporting reports from your CLM platform you can discover new possibilities or bottlenecks that need to be fixed.
Decrease costs from signatures
E-signatures save an incredible amount of time since you do not need to post or deliver contracts on paper. A click is all that's needed. Going digital with your signatures also cuts the material spending.
And last, but not least: the risks of not having a CLM system
Compliance risk
Contracts stored in physical places, emailed back and forth, and managed in several systems at a time increase the risk for mistakes or lost data.
Security risks
Contract data should be kept in a safe place where it can only be accessed by authorised individuals. Make sure the CLM platform provides a sufficient amount of levels for user roles and 2-Step Verification (also known as two-factor authentication) to access.
The competition will get ahead
If your competitors already have adopted digital contracting solutions and are operating with ease in a fast-paced environment, they have a strong advantage. Your brand image might be perceived as uncompelling, unmodern, and complicated to work with, in comparison. Customers will always choose a fast and smooth partner in business.
Employee retention
Talent expects to be in a workplace where they can make a real change and focus on what matters. Legal professionals are in high demand on the job market, and they will choose to work for a company where they can use and develop their skills.
Legal tech liberates your legal staff from doing repetitive tasks by automating them.
Alternative cost
Things that are nice-to-haves can become must-haves tomorrow. What happens if you keep the status quo?