How to be successful in legal operations management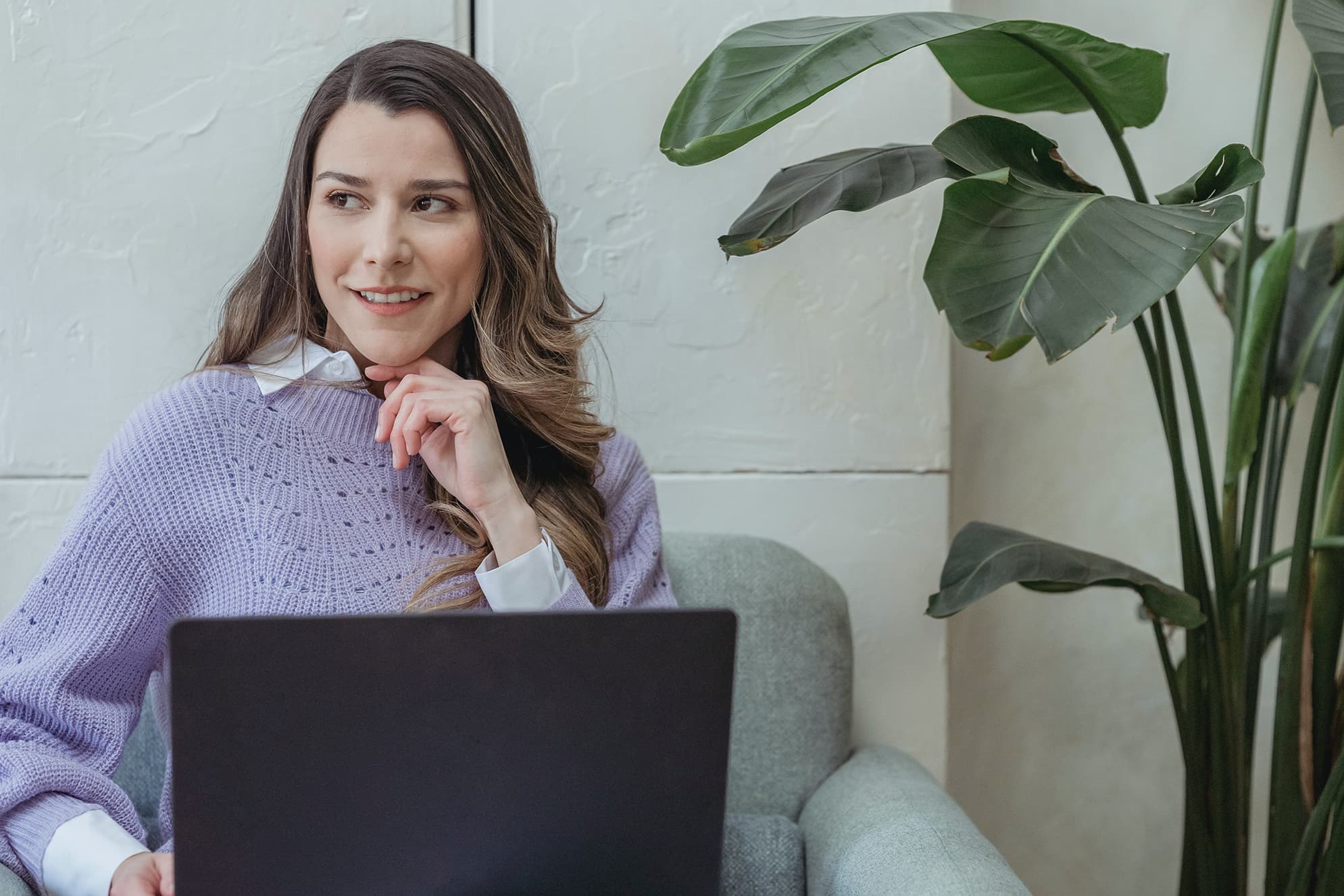 The success story of legal operations continues. More and more companies realise the potential that legal operations possesses and the positive effects it can have on the legal department in particular, and on the company as a whole.
Optimised workflows and efficient legal departments are created at smaller companies and larger enterprises around the globe daily. In fact, the percentage of legal departments with more than one legal operations professional has nearly tripled in the last 7 years.
Are you one of the lucky ones to take on this responsibility? Congratulations! In this article, you will find some hands-on tips on how to be successful in legal operations management, and how to make the entire company benefit from your work.
In this guide, you'll find out more about:
What is legal operations?
In short, legal operations is a function that supports, enables, and optimises the in-house legal department. They plan legal functions, drive improvements and tech innovation, and bring value to the company.
One could say that legal ops is dedicated to the work in the legal department that is not pure legal work such as administrative work, drafting, contracting, etc.
The need for legal operations
It is a much-needed function in any in-house legal department. Just think about the situation that many legal departments have at hand – they are swamped with work.
According to the 2021 EY Law Survey, 76% of law departments find it challenging to manage current workloads. At the same time, the same survey shows that General Counsels expect workloads to increase by 25% over the next three years. 75% of them don't expect budgets to keep the same pace.
76 %
struggle with current workloads
25 %
expect increased workload
75 %
don't expect increased budgets
So if an already high workload is expected to increase, while budgets are expected to decrease – How can one make this equation sustainable? Well, this is where legal operations saves the day – helping the legal department to do more with less, by optimising and making legal more efficient.
Both smaller companies and larger enterprises have realised the need for legal operations. According to an Association for Corporate Counsel survey, as of 2021, 61% of legal departments have at least one legal operations professional on staff, by far the highest percentage since ACC started tracking this metric.
Legal ops role, responsibilities, and functions
Every company operates in their own universe. Hence, no two legal operations professionals will face the same challenges or expectations. But there are some things that most legal ops will have in common when it comes to responsibilities and functions:
Strategic planning that keeps the legal department up-to-date and ready for the future. The strategy should align with the corporate strategy and visions.
Creation and streamlining of processes to achieve greater efficiency in the legal department.
Financial management of the legal spending, including planning and creation of budgets.
Collaboration with other departments such as Sales, IT and Finance to better join forces to make the company prosper.
Scouting for, and implementing, new technologies that optimise and accelerate processes. Introducing, for example, a Contract Lifecycle Management software allows lawyers to focus on value-driven and revenue-generating work.
Gather and use data-driven insights to make informed decisions, useful resource allocations, and/or resource requests.
Legal operations skills and competencies
Reviewing some of the responsibilities, we see that legal operations have an important role to play. We can also conclude that legal operations professionals have a multi-functional position with one foot in the legal world and one foot in the world of management. To handle this, certain skills and competencies come in handy, such as:
Project management: As the flag-bearer for transformation, it is important to be a doer. Your job is to develop, execute, and maintain effective processes for legal. You need to inspire and enable the business, your partners, and colleagues to reach set goals.
Interest in tech: You will also enable the implementation, and use, of new technology. Hence, it is important to be a bit tech-savvy or at least have an interest in tech developments.
Solution-oriented mindset: Be a problem identifier but foremost a problem solver. It is important to be proactive and always strive to find solutions.
Collaboration: Legal operations works together with a great number of stakeholders and departments daily. Cross-functional alignment is crucial to being successful in the objectives that you are working to achieve.
Communication: It is the responsibility of legal operations to make other departments understand the role and importance of the legal department. Many times this implies being able to translate legal language into plain language. It is also an advantage to be able to convincingly communicate the benefits of your work to all involved.
Listening and analysing: To find the needs, bottlenecks, and pain points of any organisation, you have to listen to the people who are involved, as well as to what the data says. This is the foundation upon which you will build your projects.
The Corporate Legal Operations Consortium (CLOC) has developed 12 core competencies, to help legal operations in their journey towards operational excellence. They visualise it like this.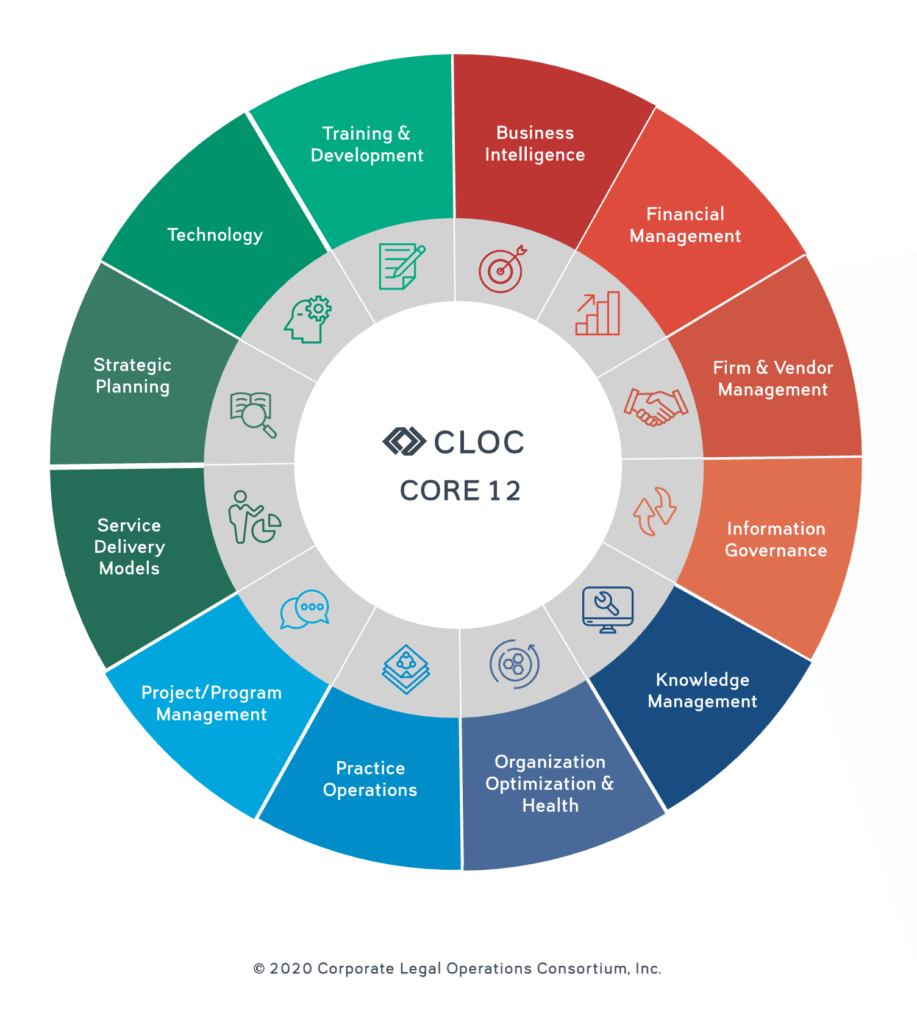 The cross-functional toolbox of legal operations
It is still common for legal operations professionals to have some kind of background in Law. But an increasing number of professionals with a background in Business, IT, HR, or similar is starting to appear in legal ops positions. This is a welcome addition that adds new perspectives and skills to the profession. It is still important to be familiar with the world of legal and lawyers, though. After all, that is the world that legal operations is working to improve.
With the right tools and mindset, in combination with an appetite for learning, you can still be successful in legal operations management without having a background in Law.
Who are legal operations partners and stakeholders?
Depending on the size of the company, there might be just one generalist-who-knows-a-bit-of-everything-legal-ops or you might find yourself working alongside functions such as IT business analysts or project managers.
Whether alone or in a team, a legal operations manager needs to define and identify the relevant partners and stakeholders for any project they hope to accomplish. Although each department within an enterprise has its priorities, they need to collaborate and share knowledge, strategy, and tools to benefit the entire company. It is vital to understand and address all stakeholders' needs, whilst balancing competing needs and priorities.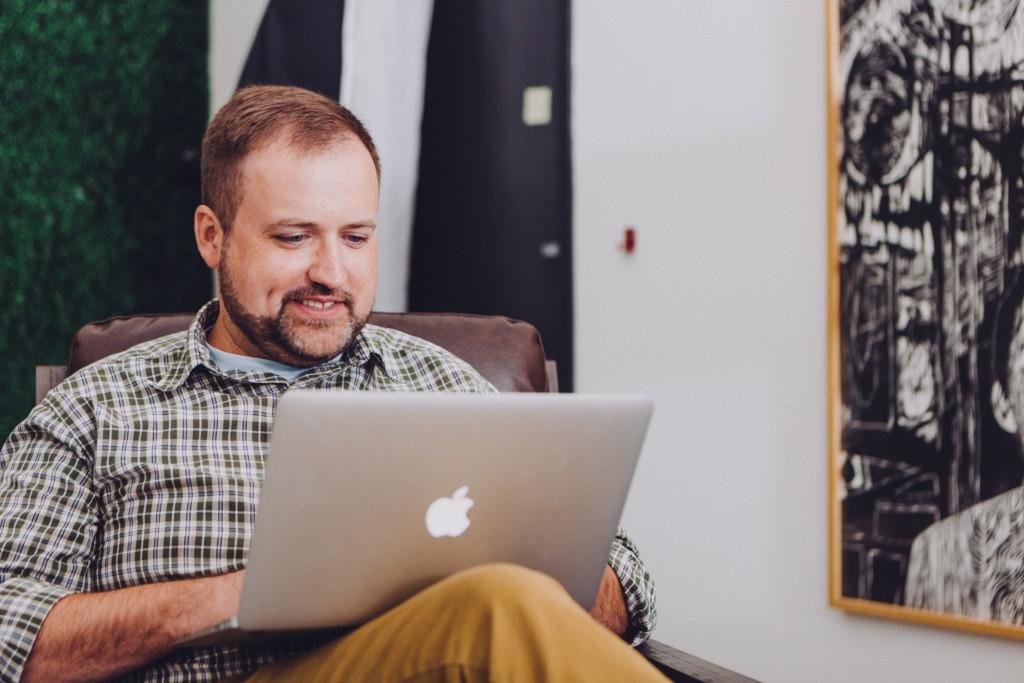 Depending on the structure and objectives of a company, the legal operations' partners and stakeholders will vary. These are some of the functions that are probable to be your allies in the quest for a more efficient legal department:
C-suite: The executive-level managers within the company should understand the benefits of the projects you want to initiate. After all, they have the last word on any investments in legal.
Finance: Working shoulder to shoulder with the financial department is a necessity to understand and manage the legal spend. Together with the financial department, you visualise how investments translate into tangible results and ensure compliance with any financial exigencies. Finance is also essential to be able to report on the financial status to other stakeholders.
General Counsel and legal department: The GC will be your partner in crime, oh we mean in legal. Legal operations is the strategic partner of the GC. Together you drive initiatives that promote the visibility of the work and benefits of your department. People in the legal department are the ones that will share their pain points, their everyday work, and challenges with you. It is vital to have your people on board to be successful in any improvement that affects their work.
Sales: According to a DocuSign survey, 49% of the 750+ sales professionals surveyed identified legal as a "challenging" collaborator. Close collaboration with Sales will show what obstacles can be removed to improve this. Together you can find ways to save time for both teams – automated contract management and e-signature software could be one step towards addressing contract efficiencies, reducing the time spent administration and contracting.
IT: The efficiency and process improvement in the legal department depends on the implementation of new technology, and hence the support of the IT department. You will want them close.
HR: Human resources and legal operations frequently work together to ensure compliance in the legal relationship between a company and its employees. Legal operations can be a strategic advisor on employment law issues including hiring, terminations, or benefits. In addition, any investment in the legal team, such as educational programs or other competence development activities, will go through HR.
How to convince C-suite to increase the legal budget?
In the ACC survey, almost all business development leaders say they face challenges working with their law departments on issues related to contracting. 50% of them report that contracting inefficiencies are impacting revenue growth. One could think that this should be enough to prove the need for legal ops to take the lead on making legal more efficient. But unfortunately, that's not always the case.
Communicate benefits
To convince the C-suite of the need for legal ops, you need to communicate the future benefits for the company. Show them how the legal department supports and serves the corporate objectives. Translate complex matters into understandable and tangible goals.
If you, for example, manage to show them how many hours legal would save by implementing a CLM system such as Precisely, or how much outside legal spend can be cut by changing certain processes, or how legal can strengthen the company's objectives, it will definitely be easier to get the C-Suite on your side. Even if it is an increased legal spend today, it will translate into a more efficient, and hence more cost-effective, legal department tomorrow.
Want to save these insights in your inbox for later?
Get funding for legal ops priorities – Show your value
Corporate leadership always want to know the return on their investment, ROI. Hence, you need to show them why they should spend money with you instead of elsewhere in the business. You have to understand how you can deliver on their concerns, frustrations, interests, and long-term visions. Then you need to convincingly communicate your ideas on how you can solve their problems and be a partner in their long-term visions. How can their investment in you give a return in the form of efficiency, cost savings, resource optimisation, more satisfied colleagues, and further development of the company?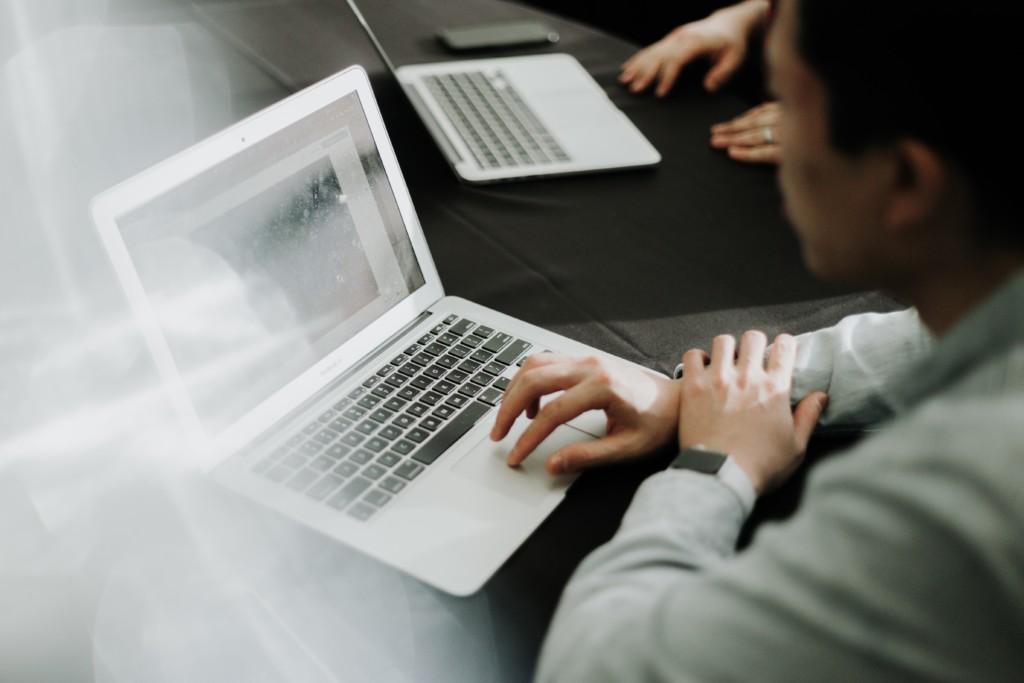 Opportunity cost and re-evaluation of the legal department cost structure
Increased pressure for efficiency is very real in many legal departments. Understanding the potentially missed opportunities when a business chooses one investment over another allows for better decision-making.
Hence, being able to show how much it could cost the company to keep the status quo instead of starting a process of change is one way of getting your message through.
For example, what is the cost of continuing as today versus implementing a contract management solution?
Opportunity costs are, by definition, unseen, and hence easily overlooked. That is why you must highlight them and demonstrate the opportunity cost of not employing legal operations in everyday practice, and highlight all the benefits of investing in legal ops.
The legal operations work
The work for legal operations professionals will vary, depending on the company and the challenges faced in each particular industry. Some challenges and opportunities will be encountered in many of the legal operations managers' everyday work life, nevertheless.
Some of the challenges for legal ops:
Some of the opportunities for legal ops:
Digitisation is ranked as the number one priority among CEOs planning changes to their business model. 61% are expecting to make significant investments into data and technology.
59% of General Counsel believe technology offers significant or very significant potential for cost savings, far ahead of any other opportunities.
42% of CLOs say they plan on adopting new legal tech solutions to improve department efficiency over the next year while 10% say they have already recently done so.
How to succeed in the first months as legal ops – seize the moment
To be successful in legal operations, the first months are crucial. This is a time that will surely be overwhelming in many ways. You will be introduced to new projects, policies, and colleagues.
This is also the moment that you will have everyone's attention and the chance to audit your organisation and learn about pain points. Take the opportunity to gather as much information as possible, to create your legal operations roadmap.
Build your legal operations roadmap
Based on your findings, outline a short-term and long-term vision for the department, and help others see how they can be a part of the overall success. Focus on what's in it for the users. Try to set expectations early. You want to build the trust required to bring off a successful transformation. It takes both time and effort.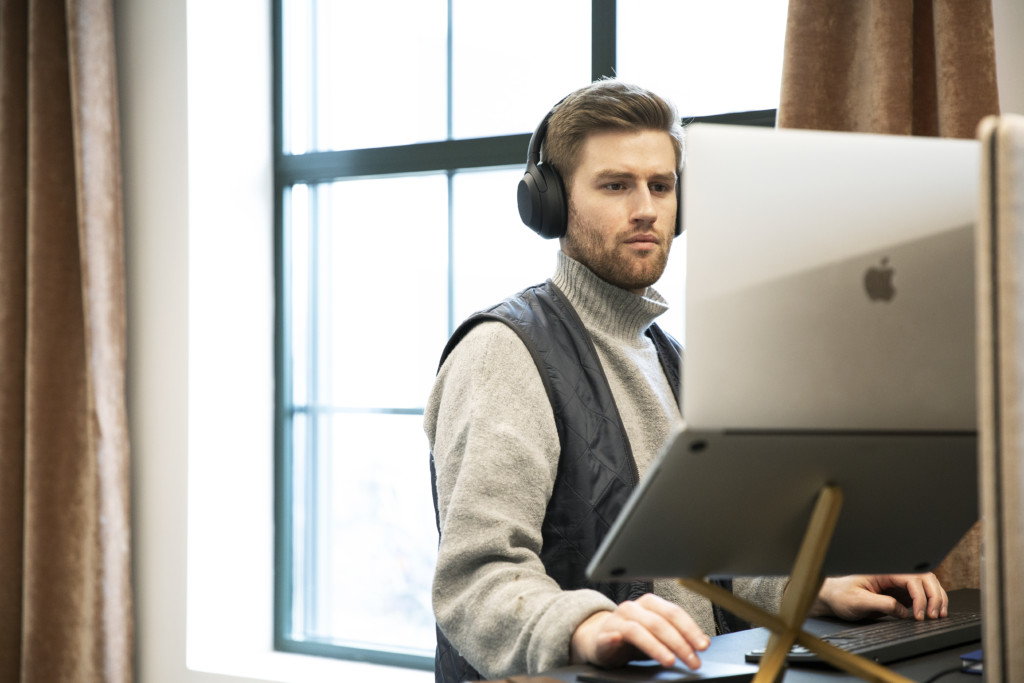 Audit – Questions to ask
As legal operations, your role is to maximise the efficient delivery of legal services. To be able to do this, it is important to ask yourself and your stakeholder some questions.
What is our starting point?
Who are our partners?
What's working well in the legal department?
What is not working well in the legal department?
What does the legal department need?
How to make the legal department more efficient?
What should we accomplish?
What tools will we need?
What does our timeline look like?
How do we measure and evaluate success?
How to make other departments self-serving while ensuring compliance?
Finding pain points and identifying inefficiencies
To make a long story short: To find pain points you need to have conversations with people. Talk to people and try to understand their frustration, share your vision, and find a middle ground that you can build on.
Remember that best practice is to listen, find the problems and then the solutions. Not the other way around.
Besides talking to the people involved, you will also need to do a methodical assessment of all aspects of the legal team's performance. Gather and analyse all the data you can find; legal spending, lawyer involvement in administrative and low-risk tasks, bottlenecks in workflows, etc.
Resolve – Plan for success
Now that you have an understanding of the most pressing challenges for the legal department –and hopefully an idea of what is needed – the fun part starts. It is time for finding solutions. Let's plan for success!
Sort – How to align legal's goals with the business' goals?
When you have done your research it is time to sort. During the previous phase, you have probably been expected to solve all kinds of problems. Now ask yourself "Which challenges need to be resolved to make legal more efficient?" and "How can legal support the corporate interests and priorities?".
Based on the findings from your audit you should start to build a roadmap accordingly. Sort and prioritise the problems that do align with the company's priorities and continue to work with them.
Decide what is business-critical and what can wait. Tasks that are not business-critical you should leave aside, at least for now.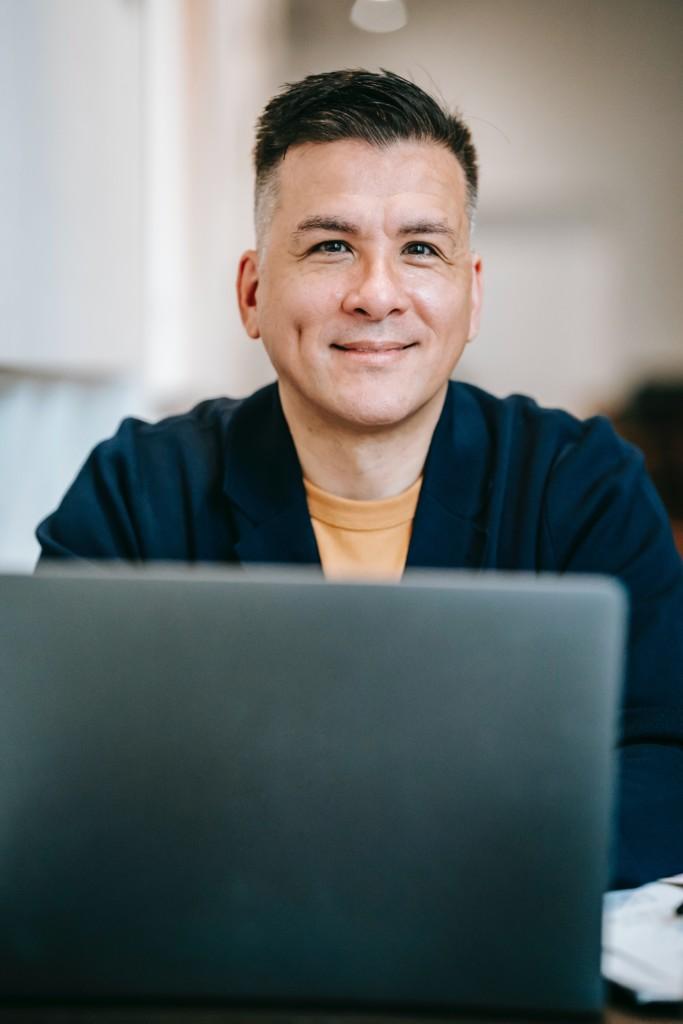 Legal operations strategy
It is time to create a plan of action. Develop a long-term strategy for the legal department together with the Head of Legal and in conformity with the corporate strategy.
Set clear and achievable goals – short-term and long-term
To be successful in processes of change it is important to set clear and achievable goals. Involve partners and stakeholders early in the process. Show how they form part of the bigger picture.
Always prioritise and communicate the long-term goals, even if the General Counsel or other stakeholders, want to see solutions implemented yesterday. Establish timelines, benchmarks, and KPIs that can be referred to clarify any doubts.
How to create technology vision and strategy for legal department
You will need to make a technology vision that answers the needs of your department and company. When creating a technology strategy for the future, it is important to also have one foot in the present. Your work is about securing the now, and the future. Be sensitive to the challenges of your company and department, while being flexible with the vision and strategy.
Evaluate current state
Creating and maintaining streamlined workflows is an important responsibility. Evaluate the current state of the technology at hand, and determine if, and in that case what, needs to be acquired. Keep an open mind while doing this – you might think that only an e-signing solution is needed, while in fact, a full contract lifecycle management software could solve numerous challenges along the way.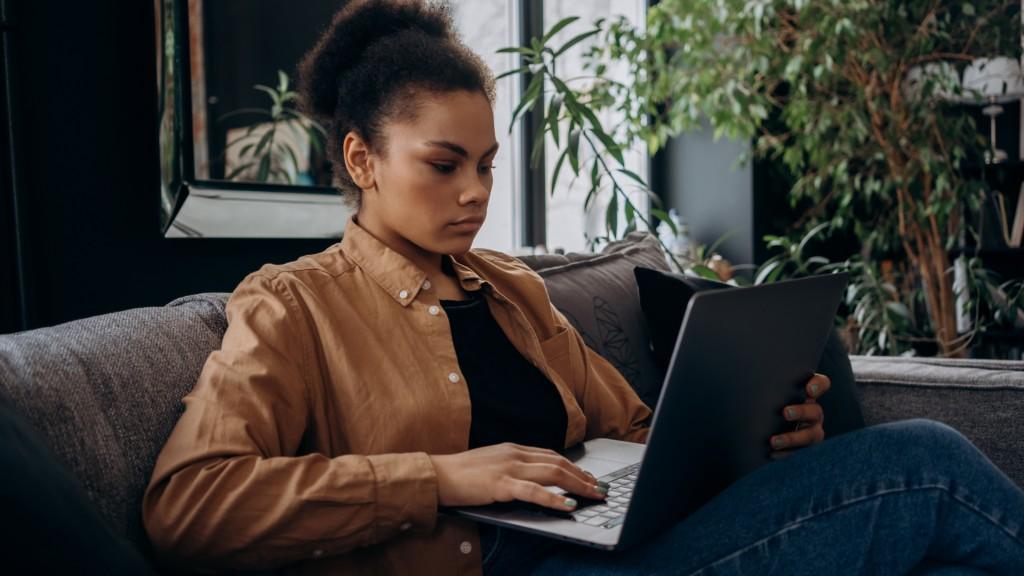 Plan for the future
Make sure to prioritise and make a realistic plan. Also, keep in mind that many of the products that might be nice-to-haves today could be must-haves tomorrow. Don't get left behind in technological evolution. Make sure you work closely with the IT Department at this stage.
Be responsive to needs and innovation. Find your current and future systemic inefficiencies, and their solution. Some might be more than obvious. As an example, 94% of companies report they face challenges with their legal entity management systems. In contracting, nearly all (99%) say they do not have the data and technology they need to optimise processes, according to EY Law Survey, although there are many tools out there to solve this issue. This might be a good place to start to save both time and money.
Scout, scout, scout. There are many possibilities out there. Whatever you need, someone almost certainly already thought about it. You just need to find it.
The Sales departments of technology companies are a great inspiration. They are experts on the legal tech market and their products, so speak to them. Book demos, ask questions, get inspired. Start with our Sales department, or with a free trial period of 2 weeks.
Other departments in your own company can also function as a source of inspiration for legal. What tools do they use? To streamline further, you might even be able to share tools between departments.
Legal operations knowledge management
Make sure that your organisation is making the best use of the accumulated knowledge of the legal team. Gather the knowledge of your team and make it easy to find. The informal ways of doing things should be formalised. This could be done through a user-friendly intranet or knowledge hub, where information, guides, documents, templates, and best practices are easily found.
Can several projects benefit one another?
Once you have a roadmap and an understanding of what needs to be done, it is a good idea to see how the different projects might benefit from one another. Take a look at what is on your to-do list and ask yourself how these projects overlap. Can more than one project benefit from the new software, outsourcing, etc? Can several departments benefit from the new software, for example, a CLM?
What is expected of legal operations?
There are many different interpretations and expectations on what a legal operations professional actually does. Sometimes, it might feel as if people see you as "the person who will solve everything".
For your and everyone else's sake, it is important to set clear goals. Be clear with what stakeholders can expect from your work. This is the way you make sure that your work meets the right expectations.
Legal Operations priorities – It's OK to say no
Since nobody can be "the person who will solve everything" it is important to be clear with what you actually can solve. Try to filter the inputs that you get from other departments and employees. You will have to limit your scope, and you will have to say no to requests and propositions.
Your time is valuable and you will need to dedicate it to making change where it is needed. As always, keep your eyes on the corporate and legal goals.
How to lead change in legal – Optimise and energise
As part of legal operations, you serve as a role model. Driving change is primarily about having people and a solid strategy to back you up. Foster a good work environment through setting a positive tone, giving praise, and being consistent in your objectives. Incentivisation goes a long way – make your partners and stakeholders feel like they are a part of a success story.
How to get everyone on board in the process of digitisation
Some might feel insecure, or even reluctant, to adopt new technology and new ways of working. Try to take these fears seriously and listen to their reasoning. Show what is being done to address their concerns.
You'll be both an educator of, and a promoter for, the new tools. Be sure to make onboarding for new software smooth and thorough to prevent future problems.
Legal Operations best practices
Communicate: Be as clear and transparent as possible. Talk to people. Understand what they need and make them understand what you are working to achieve.
Collaborate: Break down silos and promote cross-functional collaboration that empower the company's different departments.
Efficiency first: Always ask yourself how processes and workflows can be made more efficient.
Bring awareness to KPIs: Involve your team in the work. Show them which KPIs the legal department has and which goals you are driving towards.
Measure: Data is your friend and foundation. Use data to display needs, improvements, and risks.
Evaluation key points – How to measure success?
To be successful in legal operations management you need to be able to show improvements. Measure your successes along the way, small as big – and don't forget to make them known. This can be done by demonstrating increased efficiency, less spending, and contribution to the overall revenue growth. Both quantitative and qualitative successes matter.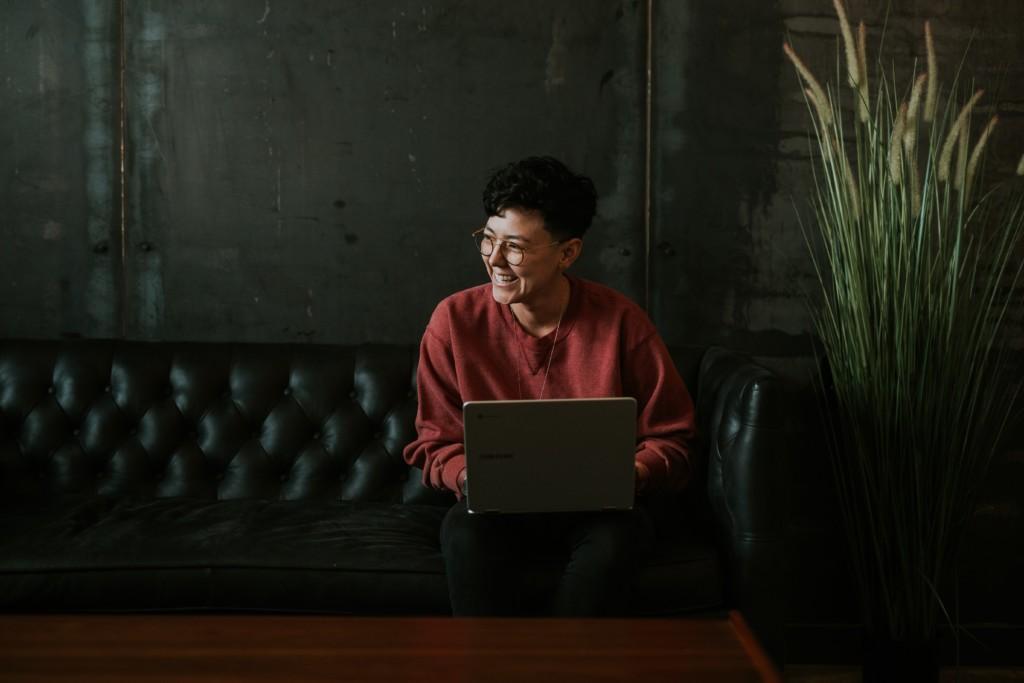 Indicators of success
Quantitative:
Data and metrics on department costs and spending, discount agreements, etc.
The number of contracts created in new versus old workflow.
Allocation of working hours, for example, the number of contracts needing legal involvement, the number of invoices or NDAs processed, the number of new or closed matters, or the amount of time that it takes from start to finish of a contract.
Qualitative:
Increased collaboration and stronger relationships between departments. Nobody gains from working in silos.
Survey answers on impact and success from employees or clients.
A more positive impression of the legal department by other departments and clients.
Keep calm and redesign
Use the data available and establish continuous performance and evaluation feedback to measure process improvements. Revisit and redesign your roadmap and strategy when needed – the goals will change as the company adapts to its actuality.
If something didn't work out as planned, learn from it and move ahead. Don't let it keep you from trying again.
Be ready to scale
As the demands on the legal department grow it might be time to talk about scalability. If more resources to the legal department have been approved there are two ways to go about it – you can increase the headcount of the legal department or outsource to external counsel.
If good processes have been established, scaling the legal department will be a lot easier. With an increased number of employees, valuable contracts, clients, and assets it is important to have structure from the beginning.
Learn more – Legal operations for dummies
Hopefully, you've gained new insights after reading this guide, and feel more confident in becoming successful in legal operations. In the end, it all boils down to developing, executing, and maintaining effective processes for legal.
If you still want to learn more, we have prepared a list of useful books on legal operations and management for you below.
Legal Operations books