Unlocking the Business Potential of Contract Management in 2023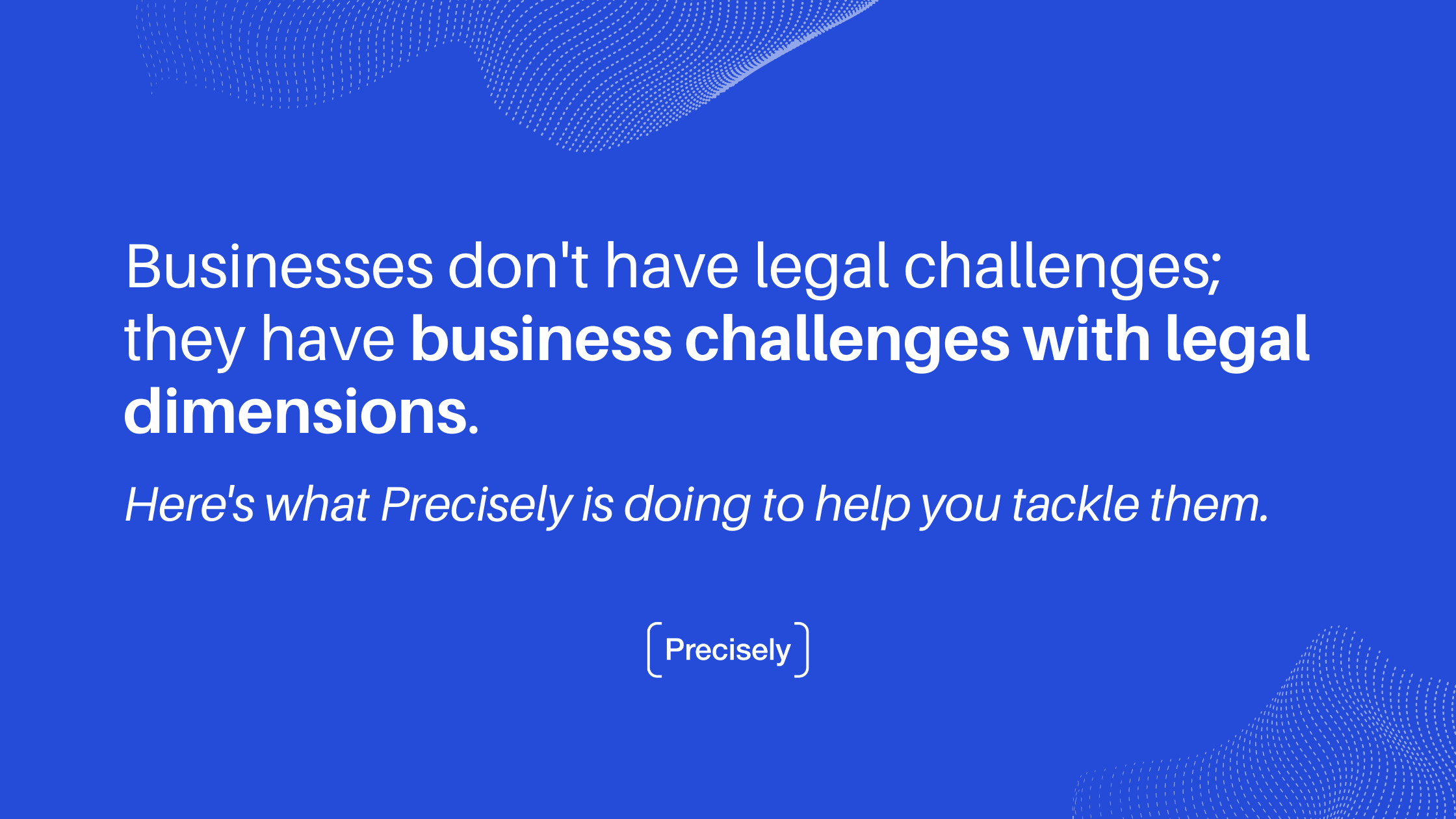 This sentence, "Businesses don't have legal challenges; they have business challenges with legal dimensions,"comes straight from an EY report on legal processes and strategies and illustrates perfectly the reason behind everything we do at Precisely. For too long, the legal function has been left behind in the digital transformation, and while it's easy to discard the issue as merely a legal challenge, it is crucial to remember that contracts do not exist to fill in the empty workdays of legal teams (or to annoy the Sales team with extra steps as they close new deals). Rather, contracts and their efficient management enable businesses to sail better, stronger, further, all while their ship staff (you!) get to enjoy the journey.
In 2022, our product team has continued to build and develop features that aim to allow businesses all over the world to be more efficient in their contract management processes. We take pride in knowing that we support legal teams in becoming the business enablers their organizations need, both with product features and moral and strategic support along the way. And, with nearly 75% of in-house legal teams reporting to suffer from moderate to high levels of burn out, and with an ever-increasing workload and budget cuts as recession looms, now is as good a time as ever to continue improving the contract management experience for in-house legal teams.
In this article, you will not only find the features we've worked on and the problems they're solving, but also the processes we set up to support our customers in their goals of reducing routine, manual tasks so they can focus on the work that matters. You'll also find events we loved being at, and we even give you a sneak peek into what we have in store for you for 2023.
Advancing a comprehensive solution for complex contracting needs in 2022
Elevating contract management with 7 enhanced product features
We released lots of features this past year, with a focus on further reducing routine work across the board. Integrations, among other things, continue to allow the contract management process to become an automated part of routine tasks. With fewer clicks than ever, contract owners are able to draft contracts, collaborate with both internal and external stakeholders, and to monitor contracts once they are signed without losing control over what documents are signed, by whom, when, or how. Read on to find out more!
Contents in this section:
Reduce manual work by amending documents with just a few clicks

Take the hassle out of in-person signing

Automatically sync reminders in the Precisely CLM with your calendar

Close deals faster with our HubSpot integration

Choose between more e-signing options to match your local and business needs

Enjoy an improved overall experience, from drafting to monitoring
1. Reduce manual work by amending documents with just a few clicks
Tired of typing the same information endlessly when modifying contracts? So are we. That's why we built a feature that enables you to, from an old contract, draft an amendment where all the unique information you filled in before can be reused to create a new contract. All you have to do is modify or add the new information and voila! Your amendment is created.
Want to see how it looks? Check out our example with an employment contract.
2. Take the hassle out of in person-signing
While in many cases, contracts can be signed asynchronously, some still require the signees to sign in person. Where previously, you had to download a contract from the Precisely CLM, print it out, get it signed, and upload it back into the archive, you are now able to simply tick a box, hand over your device to your signee, and you're done! This saves up a lot of time and, most importantly, hassle for the monitoring part of contract management.
Another exciting new feature is embedded signing. It gives you the possibility to, via our rest API, have your signees sign in your own environment, like your website or app, which makes the experience extra seamless and comfortable. You can learn more about this embedded signing feature here.
3. Automatically sync reminders in the Precisely CLM with your calendar
Precisely allows you to set up reminders that get sent directly to the right person's email inbox when a contract  needs to be renewed, amended, and more. But we know that a tech tool becomes that much more useful when you're able to sync it with systems your team and organization know and love.
With our calendar integration, you can stay on top of your contracts more easily than ever – all your reminders will show in your Google or Outlook calendar. This way, you have more visibility and control over your tasks and can plan accordingly. Learn more about our reminders and other monitoring functionalities here.
4. Close deals faster with our HubSpot integration
Again, nobody likes to write the same thing over and over again. With our latest CRM integration, more specifically HubSpot, your Sales team is able to, with just a few clicks, generate a contract from a template that was set up in the platform. 
Out of all the pros of this integration, there are two perks we particularly love:
For the Sales team, deals are closed faster than ever. When creating a contract from HubSpot, the information will be automatically populated (e.g. contact name, company name, address, and any information available on HubSpot) into a Precisely contract. If your workflow involves contract approvers from the legal team, then your legal team can even be sent a notification as soon as you create the contract from HubSpot. No more back and forth to try and work out what stage of completion the contract is at, what needs to be done, and so on. And yes, this is possible even if your contracts contain complex calculations like product prices, discounts, and more!
For the legal team, the level of visibility and control you have over the entire contract lifecycle is higher than ever. Contracts generated in the sales process are easily monitored, with notifications received at every approval stage of the process. The relevant legal team member can be notified when the contract is drafted, approve the contract before it is sent out for negotiations and even later before the contract is sent for signing, with all steps fully automated thanks to contract templates.
A win-win for everyone across the board! Learn more about HubSpot here.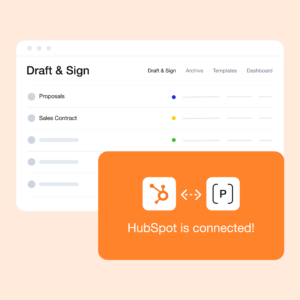 5. Choose between more e-signing options to match your local and business needs
We can count no less than 16 (!) e-signing methods you can choose from to e-sign your contracts. Added to our default provider Dropbox Sign, our Scrive partner, DocuSign, and Universign integration, we now integrated with Egreement and Adobe Acrobat Sign. 
We've also now made it possible for the Baltics to sign with SmartID, for every country in the Nordics to sign with their eID, and we also have new local providers like Verimi for Germany. Last but not least, we now also allow signees to use Qualified Electronic Signatures (QES), which meets the strictest requirements when it comes to e-signing, with our DocuSign provider.
Some of Precisely's e-signing providers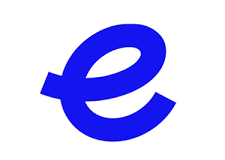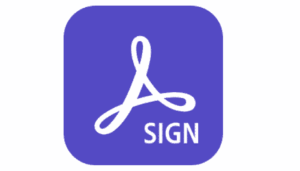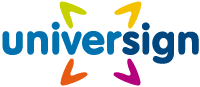 Discover all our e-signing options here, and learn about the legality of e-signatures in the EU and which option is best for your business here.
6. Enjoy an improved overall experience, from drafting to monitoring
Overall, we've also made a lot of tiny (but mighty!) changes to the overall experience of the contracting process for both internal and external parties.
First, we've updated translations so both internal collaborators members and signing parties can access information in the language they feel most comfortable in. Our Precisely platform can currently be used in English, Danish, Dutch, Estonian, Finnish, French, German, Polish, and Swedish.
Users are now also able to follow project status at all times: at a quick glance, you can see whether a contract has been approved or sent for signing, or any other stage of the contract lifecycle. All users also have a better overview of the different teams, making for smoother access monitoring.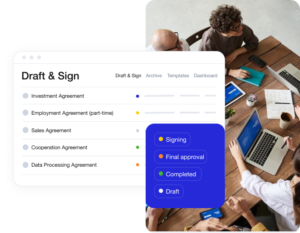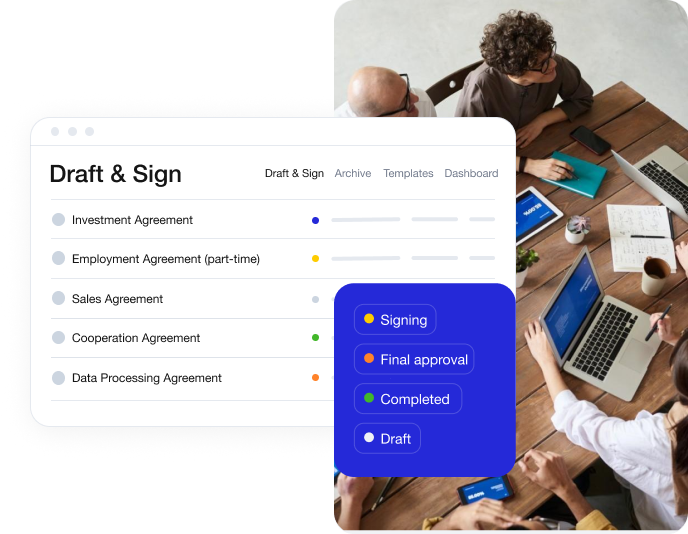 Something our customers have also been celebrating is automating metadata on uploaded files. Some contracts are drafted by the counterparty, but they still need to be sent for approval, review, signing, and be stored neatly in your internal Precisely archive. Now, when uploading a contract, you can have it be automatically tagged with metadata, such as counterparty information or any contract-specific information by answering a questionnaire. The post-drafting stages of the contract lifecycle process become smoother, and you can still make the most of the Precisely smart archive.
Another improvement is that you're now able to allow your users to preview a contract while drafting it. In Precisely, drafting a contract means answering a questionnaire, so as you fill your answers in, you can have a glimpse into what your contract will look like once drafted with one click.
Take a peek into the contract drafting experience in Precisely in the video below!
7. More focus on accessibility
A cornerstone in our culture is being inclusive; everyone should be accepted and included, no matter what. Being included and being able to access information is a basic human right. Accessibility means that every Precisely user can be empowered to use our platform without being frustrated or limited in any way.
To give you an example, we've improved our error messages: you can more easily understand why something is not working, like a formula in a contract template or why an approval flow isn't working. We've also implemented better color contrasts, or made changes for people using screen readers, and have improved our UI during the contract drafting stage.
Read more about our accessibility efforts here.
Looking for the key features we built in previous years and still love? Let us show you around our platform here.
Expert legal knowledge and exceptional customer experience: 3 ways Precisely set itself apart in 2022
1. Quarterly Business Reviews, aka QBRs, now available for our customers
In our goal to make it easier for our users to understand the impact of a contract lifecycle management tool on their business activities, our Customer Success team now conducts quarterly business reviews.
Quarterly business reviews (or QBRs) are periodic meetings that are held to review the progress of a business, project, or partnership. In the context of a contract lifecycle management (CLM) software, QBRs can be used to discuss any issues or challenges that have arisen, and identify opportunities for improvement.
They're also a good opportunity to review legal KPIs of your business like contract volume, turnaround time, and compliance rates. This can be helpful for legal teams to keep track, together with the Customers Success manager, of internal OKRs related to the CLM tool and automation.
We are excited to continue this work moving forward!
2. Your guide to navigating a complex legal world
In our goal to be a true partner for our customers in navigating the cumbersome world of digital contracting, we have started creating resources that help anyone with or without a legal background to navigate the legal world, and we will continue to do so moving forward.

Disclaimer: None of our resources are intended as legal advice.
3. Partnering for success: sharing best practices and insights from top-performing teams
In 2022, we loved working more with our customers to help you navigate the world of digital contracting with more confidence.
One of our most successful webinars was in collaboration with Adverity, where Fiona Konetzky and Dani Manfreda, VP of Legal & Compliance and Deputy Head of Legal & Compliance, respectively, shared tips, tricks, and best practices to implement a contract lifecycle management tool across multiple departments.
Catch their tips and listen to their learnings here.
We've chosen Precisely as a long term partner and really appreciate their pragmatic and supportive approach to ensure our success with the platform. The CLM platform managers our advanced contract workflows well at scale, and allows our legal team to share their workload in a controlled manner.
Highlights of the year: Our top 4 events of the year
Nordic Contract Management in Copenhagen
In Copenhagen, we met up with Fiona Konetzky from Adverity and discussed how to successfully build a legal operations team from scratch. 
Watch the replay of the talk here: How to successfully build a legal ops team from scratch – with Fiona Greiner, Adverity
Our Sales team, CEO Nils-Erik Jansson, and our Legal & Compliance manager met with curious minds of the legal world to learn more about the state of affairs in the legal industry, present our CLM solution, and even give a talk on legal KPIs, or Key Performance Indicators, and OKRs, Objectives and Key Results. From then on ensued many conversations and questions around KPIs and OKRs: what are they? And, given the running assumption that legal work isn't measurable, can they really be applied for legal work?
The short answer is yes; the longer answer can be found in our legal KPIs document here, where you can dive deeper into legal KPIs and examples to start measuring your performance.
Legal Operations Exchange at IQPC in London
A few people from our team went to London again, this time to meet with General Counsels from various companies, large and small, to chat all things CLMs and the various problems our tool solves.
A big topic was security: most companies care about their data being safe and protected. Precisely is committed to offering the most secure way to protect your privacy and your contracts. While we currently offer bank-level security, one of the major new features we are working on aims at providing the most secure environment possible. Stay tuned to learn more!
Hosted our first event at the new office: let's talk UX – how to make your product accessible to all
At Precisely, we believe that having access to information on equal terms, no matter who you are, where you come from, or what your cognitive or physical map looks like, is a human right. We were happy to welcome a group of curious UX designers where our in-house designers and front-end developers presented the work we are doing – and how to get started and bring accessibility to your company. We had a blast, and hope to welcome Let's talk UX again in the new year!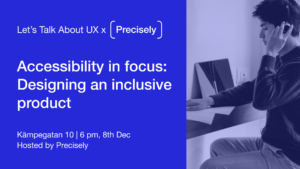 Fostering strategic thinking for impactful contract management in 2023
In 2023, we are committed to helping our customers achieve success by focusing on three key areas: maintaining the highest level of data security, utilizing data-driven decision making, and fostering close collaboration with our customers to understand and address their unique contract management needs. We are always growing and learning, and we are eager to work with our customers to develop solutions that will have the most impact on their business.
Securing your business's future: the importance of data security
As mentioned earlier, a big concern of ours is to keep your data as safe as technically possible. According to a 2022 IBM report on the cost of data breaches, data breaches are extremely costly. So besides hurting the safety of sensitive information and the reputation of a company, data security is a business concern. Here are some numbers:
60% of data breaches happen via third party vendors;

On average, it takes an organization 277 days to identify and contain data breaches;

In 2022, the average recovery and remediation cost is estimated at 4.35 billion dollars (rising every year).
Our goal is therefore to equip your organization with the highest level of security possible. Right now, the Precisely platform is GDPR compliant, allows you to opt for AD/SSO, enables two-factor authentication, offers a wide variety of e-signing options to meet various verification needs, and you can even request for single tenant hosting, where our solution is custom set up and hosted on a separate cloud for your organization.
Moving forward, we'll continue our journey towards providing the most secure solution possible, with enhanced security features and add-ons to protect your data.
Maximizing the value of your contract management: measuring ROI & KPIs
As a true partner for your business, we understand the importance of measuring the return on investment (ROI) and key performance indicators (KPIs) of your contract management efforts, especially in times of economic uncertainty. That's why we are committed to expanding our resources to help you calculate costs and make the most of your contract lifecycle management (CLM) investments.
Whether you are building a business case for implementing a CLM solution, expanding it to new teams, or considering switching to a better fit for your business, we will provide more resources and tools, like our ROI calculator, to help you make data-driven decisions that will benefit your organization.
You can already give our ROI calculator a go here.
With Precisely, you can achieve
30 %
fewer manual legal tasks
80 %
more contracts signed in a day
Unlocking the secrets of contract management success: Insights from top performers
When it comes to contract management, who better to learn from than those who have transformed their contracts into real business assets? That's why we're committed to fostering even closer collaboration with our customers – the legal operations professionals and contract lifecycle management (CLM) users who deal with contracts and contract management every single day. They've built complex workflows and achieved real success using our versatile platform, and they have valuable insights to share. We'll be sharing these insights through more interviews, webinars, and use cases, so you can learn from the top-performing teams around the world about best practices and tips for contract management success.
Stay ahead of the game in 2023 and jump on the CLM train
In 2023, we are dedicated to bring you cutting-edge solutions that will help you unlock the full potential of your contracts and turn them into a valuable business asset. To stay updated on the latest features, problem-solving strategies and tips, sign up for our monthly newsletter. Each month, we release new features and continue to improve our platform, and we don't want you to miss out. Be the first to know about the ways our solution can enhance your contract management processes. Sign up now and elevate your business to new heights!